Travel Services
Shpping in sanmenxia city
Transportation
Accommodation
Specialties
Scenic spots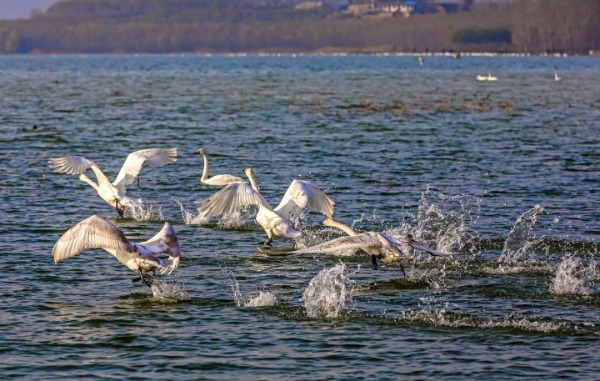 Swans fly over the water at the Yellow River Wetland in Pinglu county, Shanxi province, on March 1. It is one of the biggest sites for swans migrating from Siberia for the winter.[Photo/Xinhua]
TAIYUAN-Spring is in the air. Tens of thousands of swans are leaving their winter homes in China and flying back to Siberia.
Local authorities in China's regions along the swans' migration route have pledged a harsh punishment for poaching and arranged special personnel to safeguard the birds on their return to Siberia.
Swans are listed as a national second-level protected animal in China and a globally vulnerable species. According to Zhang Longsheng, a senior engineer with the Shanxi provincial forestry and grassland bureau, there are three main migration routes for Siberian swans flying to China, with the middle route passing through Mongolia to northern and central China.
"Over 20,000 swans migrate from Siberia to China annually. The Yellow River Wetland is their largest migration site, attracting more than half the population every winter," Zhang says.
Located between Pinglu county of Shanxi province, and the city of Sanmenxia in Henan province, the Yellow River Wetland has an area of 2.8 million hectares, and plays an important role in protecting water sources and purifying water quality in northern China.
"Swans started to hibernate here in the 1980s, and the number has grown from 2,000 to 12,000 over the years," says Yang Yunge, head of the wildlife conservation station of Pinglu.
In 2012, Pinglu was named "China's Swan County" by the China Wildlife Conservation Association. In order to protect the species, Pinglu has shut down all polluting enterprises around the wetland, invested tens of millions of US dollars to improve the environment and established a conservation team with some 100 people as well as installing a video surveillance system.
"It is our responsibility to protect these swans. They are both part of the natural ecology and our happy life," says He Jianxi, who has been a ranger for more than 10 years in the Pinglu Yellow River Wetland Reserve. For the past few months, he has been feeding them corn and cabbage weighing over 100 metric tons.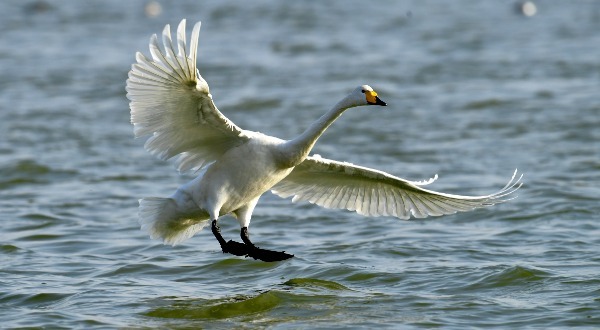 Swans fly over the water at the Yellow River Wetland in Pinglu county, Shanxi province, on March 1. It is one of the biggest sites for swans migrating from Siberia for the winter.[Photo/Xinhua]
For the past six consecutive years, Pinglu has compensated local farmers 400,000 yuan ($57,100) annually to return farmland to wetland.
Pinglu strives to find a "balance point" between the ecological and economic benefits. The county is constructing a swan ecological economic demonstration zone with an investment of 3 billion yuan. After the completion of its first stage, it is expected to receive more than 500,000 tourists a year.
The rise of the "swan economy" has strengthened the awareness of authorities and people across China of the need to protect the species and the ecological environment.
In 2014, Sanmenxia has designated Nov 22 as "Swans Protection Day".
Last winter, an international academic exchange conference on swan conservation was held in the city of Rongcheng in East China's Shandong province, another important swan migration site.
Representatives and scholars from China, Russia and Japan, among other countries, jointly issued the Rongcheng Declaration on Swans Conservation, aimed at strengthening international cooperation in the protection of the birds.
Guo Lixin, deputy secretary-general of the China Wildlife Conservation Association, said at the meeting that Rongcheng's swan protection and management model based on community participation has formed an urban ecology in which people and nature harmoniously coexist.
In 2013, China set a "red line" of no less than 53 million hectares of wetlands by 2020. In 2019, 158 pilot national wetland parks in China passed appraisal, according to the National Forestry and Grassland Administration.
Thanks to the introduction of multiple protection policies and increasing financial investment, China's continuous improvement of the ecological environment has become the best "escort" for the migration of swans.
"As China continues to improve its ecological environment, there may be more swans flying from Siberia to spend the winter in China," Zhang says.